Carved Table with Slate
Bed and Twin Side Tables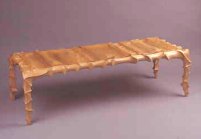 Carved Bench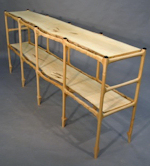 Double Slab Table
Click on any of the pictures to learn more about that particular piece

The hand sculpted base is perfect for tables of any dimensions, or combined with stone such as slate or granite, or to simply show off the beauty of a slab of wood that has been at a lake bottom for over a hundred years.

There is a natural aesthetic to my designs. For several years I kept a large natural walnut slab in my studio and confronted it daily. My intent was to come up with a non-nakashima approach to this slab. One day the design just hit me and the result was a hand shaped and undulating stand dictated by the slab. Sometimes I lead the wood, and sometimes the wood leads me.