Double Slab Table

A table with two bookmatched slabs of Curly Maple. The slabs are
bookmatched, which means cut from the log in order. Each has a
live edge of both edges, and the stand mimics the edge. The
second picture is the view from the end of the double slab table.

The picture below is the Walnut Slab Table. This is a slab table
now in the West Virginia Cultural Museum permanent collection. A
beautiful walnut slab with two live edges, and a stand that moves
with the edges.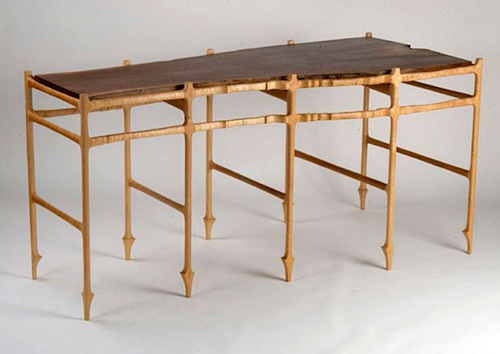 John Wesley Williams
Designer - Craftsman
360 Pleasant Lane
Renick, WV 24966
Telephone: 304-497-3896 / Cell: 304-646-3829
E-mail: john@johnwesleywilliamsfurniture.com
---
---

Home | Personal Statement | Awards | Galleries | Exhibitions | Archive
Desks & Vanities | Tables & Beds | Cases | Recent Commissions and Completions


Content of these Web Pages is Copyright ©2003 by John Wesley Williams
Written Permission is required prior to reproduction in whole or any part. All rights reserved.



Do you like the look and feel of this Web Site?
No-Nonsense Web Design is available at surprisingly reasonable rates from...
Art Glick dba Almost Heaven Electronics